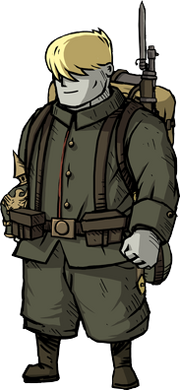 Karl is a playable character in Valiant Hearts: The Great War.
Karl is a German who was living in France before the war started. He is married to Emile's daughter, Marie, and they have a son together. At the beginning of the game, Karl is deported to Germany shortly before the war begins, and is conscripted into the German army. He is 18 years old at the beginning of the war.
Background Information
According to his official profile, Karl was born on May 6th, 1896, in a village near Strasbourg, Germany. His father was a Lutheran pastor, and the family atmosphere was cold and conservative. Though Karl received some education while growing up, he did not have the means or desire to attend secondary school.
In 1912, when Karl was 16, he left home and traveled around finding work at factories and farms in Belgium and France. He came to work at Emile's farm near St Mihiel in 1913, and decided to stay as a farm hand rather than moving on to another location like he had previously done. While working for Emile, Karl fell in love with Emile's daughter Marie, and married her. In 1914, they had a son, who they named Victor.
In the summer of 1914, Karl was deported to Germany. As of August 1st, Karl had arrived in Germany, and was conscripted into the German army.